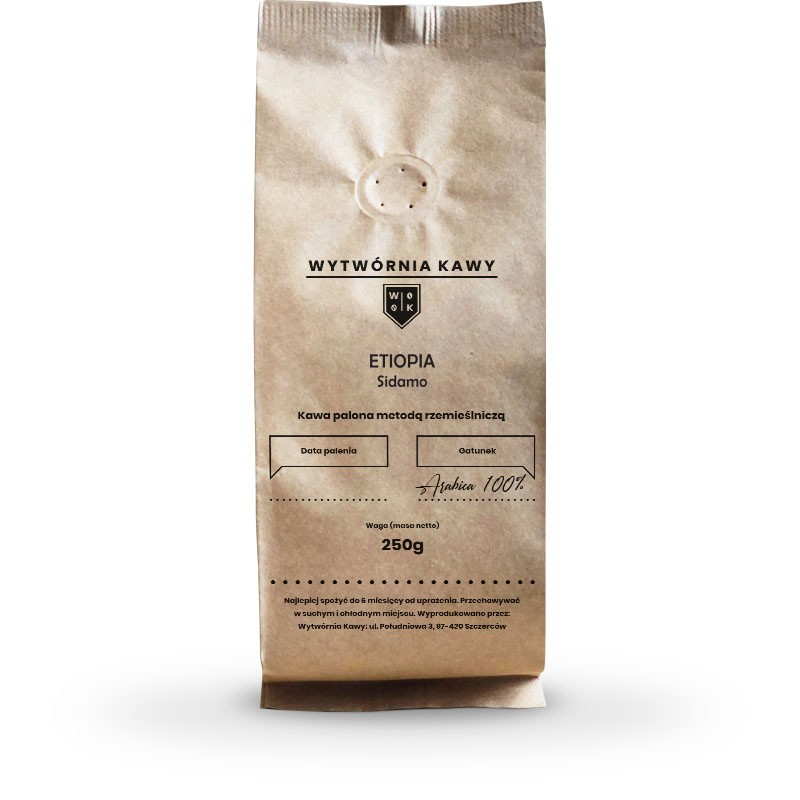 
keyboard_arrow_rightkeyboard_arrow_left
Etiopia Sidamo - ARABICA 100%
Ziarna kawy o cytrusowo-kwiatowym aromacie. Delikatna kawa Etiopia Sidamo to najwyższa jakość dostępna już w Wytwórnia Kawy.
Rodzaj: Ziarnista
Gatunek: Arabica 100%
Moc: Delikatna (1/5), Kwasowość: Intensywna (4/5)
Sposób palenia: średnio palona
Kawa Etiopia  - ziarna o najwyższej jakości
Etiopia to kraj o najsilniejszej tradycji kawy, to właśnie tam została ona odkryta w dawnym regionie Kaffa, a dziko rosnące drzewka kawowca można napotkać po dziś dzień.
Ziarenka tej kawy są najwyższej jakości, a sama Etiopia znajduje się w czołówce produkcji i eksportu kawy.
Warunki idealna do uprawy kawowy
W Etiopii panują doskonałe warunki klimatyczne sprzyjające uprawom kawowca, a on sam rośnie w częściowo zacienionych miejscach wchłaniając wszystkie najlepsze aromaty.
Zbiory odbywają się ręcznie, a wisienki obrabiane są metodą na mokro, by później mogły wygrzewać się na słońcu.
Idealnie łagodna kawa
Etiopia Sidamo to gatunek kawy o niespotykanym, głębokim smaku i delikatnej mocy z dobrą kwasowością. Ma ona niesamowity cytrusowo-kwiatowy aromat i niebywały smak czekolady - to zdecydowanie dominująca nuta smakowa. Można się w niej również doszukać smaku orzechów.
To idealna propozycja dla osób lubujących się w lżejszych kawach.
Data sheet
Type of coffee

Arabica 100%

Type

Coffee beans

Strength of coffee

Soft

Kwasowość

Intense

Kraj pochodzenia

Etiopia

Kontynent pochodzenia

Afryka

Klasyfikacja

Coffee to office
Customers who bought this product also bought:
12 other products in the same category: