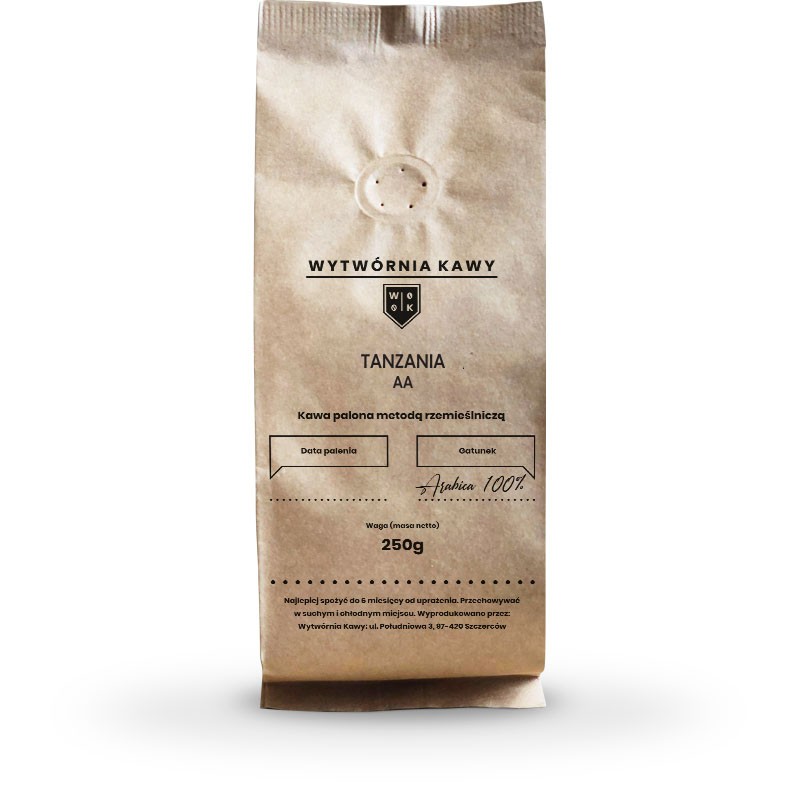 
keyboard_arrow_rightkeyboard_arrow_left
Tanzania AA - ARABICA 100%
Kawa ziarnista Tanzania to wyjątkowo aromatyczna kawa z Afryki Wschodniej. Smak herbaty, kiwi, czekolady oraz limonki i czarnej porzeczki dostępny już w naszym sklepie wytworniakawy.pl.
Rodzaj: Ziarnista
Gatunek: Arabica 100%
Moc: Mocna (5/5), Kwasowość: Średnia (3/5)
Sposób palenia: średnio palona
Kawa ze Wschodnie Afryki
Tanzania to kraj wschodniej Afryki, słynący z największych cudów kontynentu takich jak znane chyba każdemu Kilimandżaro - najwyższa góra Afryki nazywana również jego dachem, czy też krater Ngorongoro - określany naturalną Arką Noego. Znajduje się tu również Park Narodowy Serengeti - jeden z największych i najbardziej znanych obszarów chronionych na świecie! To właśnie pośród takich cudów natury rośnie nasza kawa, co już czyni ją niezwykłą.
Warunki idealna do uprawy kawowy
Uprawy odbywają się na niewielkich plantacjach, gdzie gleba przepełniona jest składnikami odżywczymi, a warunki klimatyczne tam panujące są idealne dla kawowca.
Ziarenka obrabiane są metodą na mokro, a następnie suszone na słońcu.
Wyjątkowa aromatyczna kawa
Kawa Tanzania to intensywny napój z dość wyrazistą kwasowością. Można się w niej doszukać smaku czarnej herbaty, kiwi, czekolady, limonki i czarnej porzeczki.
Data sheet
Type of coffee

Arabica 100%

Type

Coffee beans

Strength of coffee

Strong

Kwasowość

Medium

Kraj pochodzenia

Tanzania

Kontynent pochodzenia

Afryka

Klasyfikacja

Coffee to office
Customers who bought this product also bought:
11 other products in the same category: